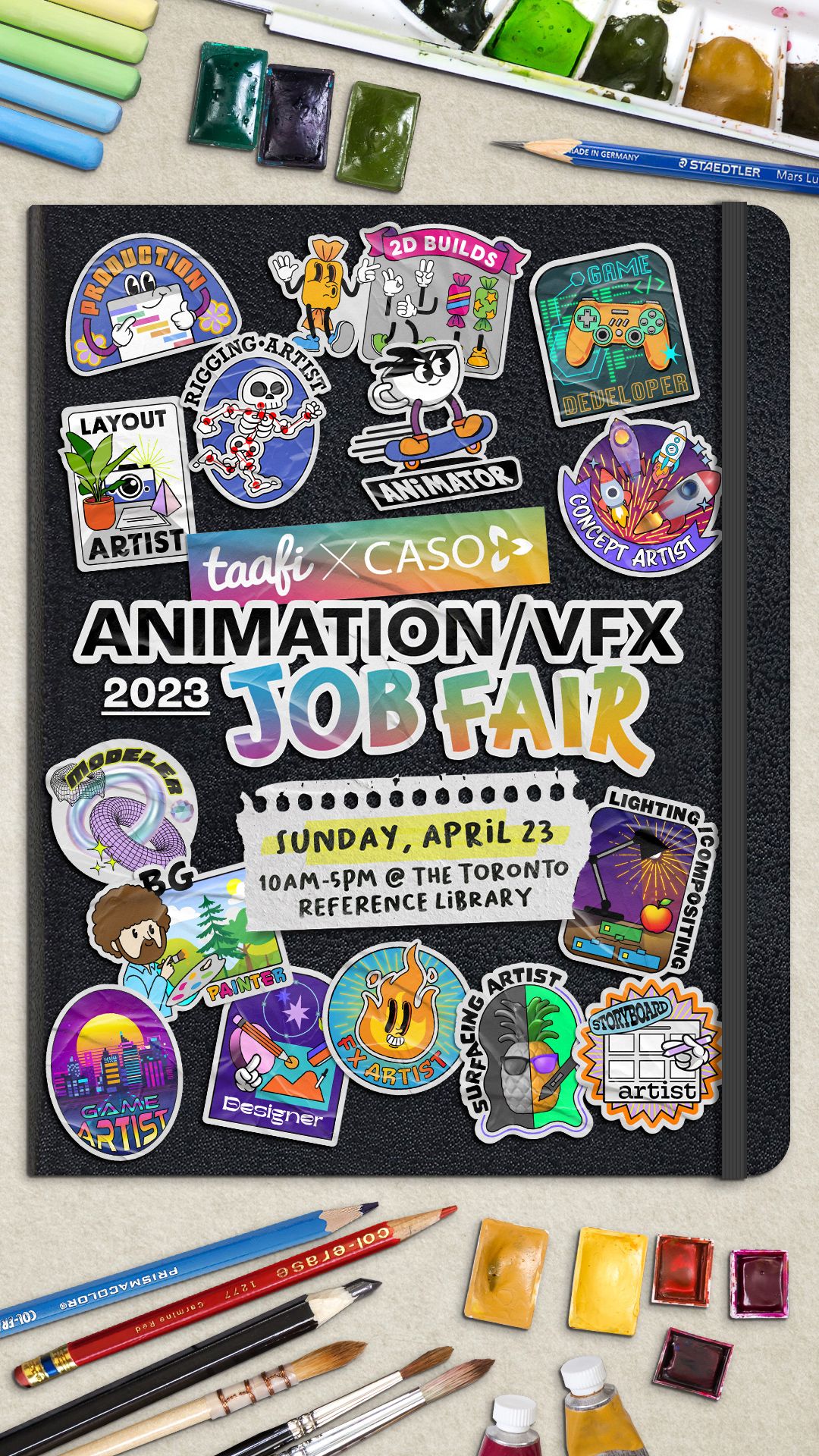 Animation | VFX | Gaming Job Fair Coming Sunday April 23rd, 2023 10am - 5pm
REGISTRATION IS SOLD OUT!

Missed registration? There's still a chance to get into the Job Fair floor. We will be having a Rush Line to the right of registration. This line is for those who want to enter the job fair floor but missed the chance to register. Job seekers will be asked to sign their name on a list. 30 minutes following doors opening, the rush line will start to admit folks on the list if there are any no-shows/space on the floor. The event space capacity is strictly enforced and we ask everyone kindly for their cooperation. Don't worry if you don't get into the morning rush - there's still a chance in the afternoon to get in and we will be calling names in the order they appear on the sign up list. Please be present for doors opening to ensure you hear whether your name is called. In the meantime, please feel free to visit the Artist Alley, Portfolio Review Zone, and Presentation Zone as these are fully open to the public.

🎓 Are you graduating soon from an animation based college?
🖌 Are you an industry professional looking to see what else is out there?
👩‍🎨 Are you currently in college looking to have your portfolio reviewed by industry professionals?
🏢 Are you a studio looking to grab the latest and greatest worker-bees?

Back in person for the first time since 2019, one of the world's largest Animation/VFX/Gaming Industry Job Fairs, it's the TAAFIxCASO Animation/VFX Job Fair!

There's a special sticker waiting for you! Registration is MANDATORY. ONE TIME SLOT PER PERSON ONLY.

Do you have questions or concerns? Email us at jobfair@taafi.com
Portfolio Review Zone Schedule
2D ANIMATION
Lisa Whittick / Lindsay Knowler
Series Director / Animation Consultant (Toonboom)
Kristen Handley / Cristina García Sosa
2D Animation Supervisor / 2D Animator
Jack Tait / Rowan Campbell
2D Animator / 2D Animation Supervisor
Diane Aarts / Chris Cherkas
Director / 2D Animation Supervisor
Faez Alidoosti / Diane Aarts
2D Animator, Cartoonist / Director
Sonia Beckwith / Erin Klatt
2D Animator
Rowan Campbell / Erin Klatt
2D Traditional Animator / 2D Animator
The Presentation Zone: Presented by Harley Farms
Visit the Artist Alley!
Visit TAAFI's Artist Alley! Featuring 25 amazing artists with tons of great stuff worth stuffing in your complimentary SWAG BAG compliments of Harley Farms.

Grab artwork by Jessica Deng, Mindy Zhang, Lis Xu and tons more.

Check out the MAP!
Hey STUDENTS, Get your Portfolio Reviewed!
Our animation industry community came together and offered up their Sunday to review YOUR portfolios.

Whether your speciality is 2D Animation, 3D Animation, Design, Storyboard, VFX, or Gaming, pop by and wait in line to get some industry vet to review your portfolio. Check the schedule above to see who's reviewing when. And here's a link to the MAP!

No entry bracelet needed. Smell ya there!