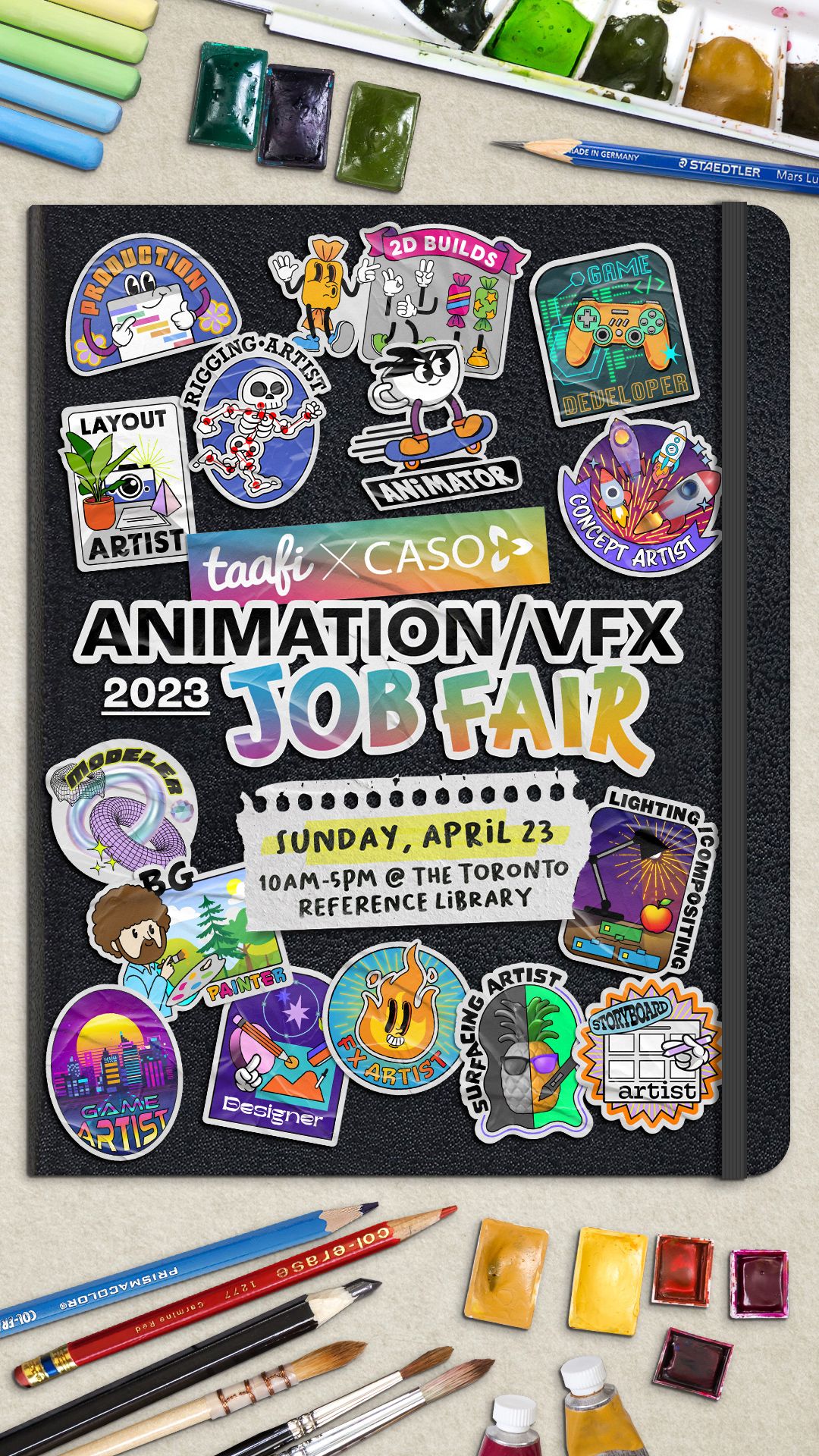 Animation | VFX | Gaming Job Fair Coming Sunday April 23rd, 2023 10am - 5pm
REGISTER NOW!

🎓 Are you graduating soon from an animation based college?
🖌 Are you an industry professional looking to see what else is out there?
👩‍🎨 Are you currently in college looking to have your portfolio reviewed by industry professionals?
🏢 Are you a studio looking to grab the latest and greatest worker-bees?

Back in person for the first time since 2019, one of the world's largest Animation/VFX/Gaming Industry Job Fairs, it's the TAAFIxCASO Animation/VFX Job Fair!

There's a special sticker waiting for you! Registration is MANDATORY. ONE TIME SLOT PER PERSON ONLY.

Do you have questions or concerns? Email us at jobfair@taafi.com
Portfolio Review Zone Schedule
2D ANIMATION
Kristen Handley
2D Animation Supervisor
Lisa Whittick
Series Director
Chris Charkas
2D Animation Supervisor
Faez Alidoosti
2D Animator, Cartoonist
Sonia Beckwith
2D Animator
Rowan Campbell
2D Traditional Animator
Get your booth now!
Are you a leader in animation production here in Canada? Working on some amazing projects you'd like to recruit for? Get your chance to be face to face with over a thousand animation students and professionals looking for jobs! Lots of perks, braggin' rights and have your logo on a bunch of promotional material. Contact jobfair@taafi.com 👈
STAAFI needs you!
Want to volunteer at this year's Job Fair as a STAAFI? Well, things are back to normal and we'll need a boatload of punctual in person volunteers to help out. Got some spare time on Sunday, April 23rd? Fill out this exciting amazing FORM! Thanks a bunch friend😍!
Join the Artist Alley!
TAAFI's Artist Alley offers students, professionals, small collectives and independent freelancers the chance to showcase and sell your work to the general public and animation arts industry!

TAAFI offers specially priced tables of 6' or half tables of 3' to individuals and collectives who would like to showcase and sell their work in the Alley.
Introduce your fans to the smiling face behind that work. Click HERE for the PDF.

Click HERE to APPLY!
Be my hero! Volunteer to review portfolios!
Hey do you have a big warm talented industry heart 💖? Ryan and Adriana would love you forever if you could spare an hour of your time during the Job Fair Sunday April 23rd to take a peek at peoples portfolios! Whether your specialty is 2D Animation, 3D Animation, Design, Storyboard, VFX, or Gaming, we need YOU to give back to the community you were born from. Sign up to this amazing FORM to help out! Super thanks!